Campus Safety - Minneapolis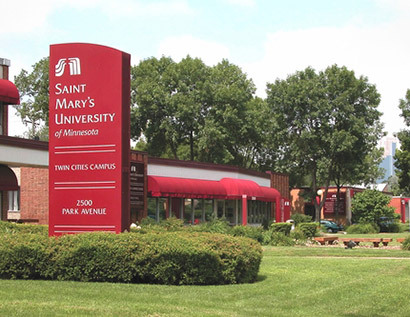 At Saint Mary's University of Minnesota  Minneapolis Campus, we value your safety. Saint Mary's contracts its security services with Garda World Security, but some circumstances may be more appropriately dealt with by the city of Minneapolis. Please read our Minneapolis Campus Pocket Emergency Guide for further details.
SECURITY SERVICES
The Garda World Security staff is available to provide non-emergency escorts from one building to another or to vehicles.
PARKING
Parking on the Minneapolis Campus is free and available in clearly marked campus parking lots as well as on the public streets near campus.
SEVERE WEATHER
Weather alerts are posted to the Saint Mary's website home page. Students attending classes on the Minneapolis Campus may also dial the general number, 612-728-5100, to hear the answering system broadcast message that is updated to communicate weather-related cancellation information after an official decision has been made. Class cancellations are also broadcast on WCCO-AM 830 or KSTP-AM 1500.
---
Find us in Minneapolis
La Salle Hall
Twin Cities Campus
Hours: Monday–Friday 7 a.m. to 10 p.m.; Saturday–Sunday 7 a.m. to 5 p.m.
Office of Campus Security
Saint Mary's University of Minnesota
2500 Park Ave.
Minneapolis, MN 55404-4403
612-720-0417
Minneapolis Campus Emergency Guide (PDF) ›
Minneapolis Annual Security Report (PDF) ›